Holy Monastery of Agia Pelagia Kastrosikia
The monastery of Agia Pelagia is at a short distance to the south of the settlement of Kastrosykia. It is built on a hillside abounding with olive trees, stretching from the outskirts of the settlement towards the Ionian Sea, next to the Preveza-Igoumenitsa national road.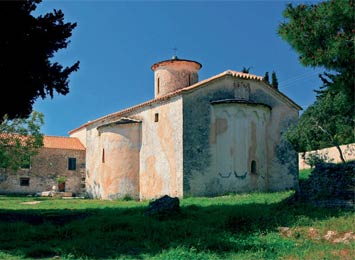 According to the inscriptions, it was built in the seventeenth century and has been renovated twice, in 1613 and 1795. The stone iconostasis of the main temple seems to have been made in 1856. The date is written on the icons of the Crucifixion and the Holy Apostles.
The main church (catholicon) of the monastery is a simple four column cruciform inscribed temple with side spaces and a stone iconostasis dating to 1856. The cells are west of the main church and are rectangular, with three spaces for welcoming guests and an open balcony. Of all the buildings that are still preserved today, the oldest one is the pillar with the arch-like door, which bears an inscription of the date on its coating «Σ/Σ/ 1894».
The Monastery was built in 1894 on the ruins of a Roman building, some of which can be seen in the yard, while recently, a mosaic floor dating to the Roman era has been brought to light in one of the cells. The monastery has been characterized as a historical monument to be preserved according to 717/τβ/19.8.1997.