Holy Temple of Agios Athanassios, Preveza
The church of Agios Athanassios in Preveza is a single-space basilica with a semi-circular conch on the east. This is an architectural style which is very popular in the Ionian Islands.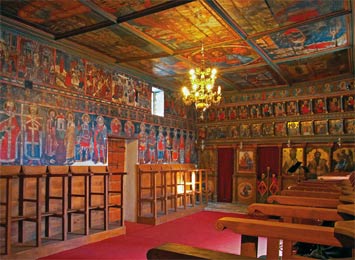 The inside of the temple has wall paintings dating back to 1780 according to a similar inscription. The roof of the church is particularly impressive with its paintings placed in various sections ("diachora"), depicting scenes from the Old Testament, the Miracles performed by Jesus and so on.
In the wood carved iconostasis of the temple, the "diastyla" (barriers) of the lower part are painted according to the Ionian islands style. Also preserved within the church are icons of Ionian island artwork.